OMAKE: ( EXTRA ) MYSTERIOUS PHENOMENON
CHAPTER 36.5 OF THE MANGA
( Anime cross-reference---None )
Oka's Style
A little while after the Hoshinome School Cultural Festival, Oka and Urabe run into each other one morning on the way to school. Oka comes up alongside Urabe, and they exchange 'Good Morning' greetings. However, Oka immediately puts her arm around Urabe, around her back, and while walking side-by-side, strokes Urabe's opposite hip. Oka declares that Urabe is, today, wearing her panty scissors, for sure! Urabe grabs Oka's hand, and tells her, with exasperation, that she has been too touchy-feeley lately. Oka seems genuinely surprised, and wants to know if Urabe is mad at her. Well, no, but Urabe does believe that Oka's actions are reminiscent of what a 'Dirty Old Man' would do. Oka now becomes somewhat embarrassed, clutching her bookbag with both her hands, and confessing that Urabe may be on to something about her!
As they continue to walk together, Oka confides that she really likes Urabe as a close, intimate girlfriend, and as such, may have become too familiar and presumptuous towards her. An apology is offered by Oka, and Urabe is magnanimous in return. Oka then blushes deeply, and soon becomes quite sullen. Urabe sees her discomfort, and leans down towards her, so that they are almost face-to-face, cheek-to-cheek. Oka turns to look at Urabe, as Urabe tells Oka not to worry too much about being around her and spending time with her.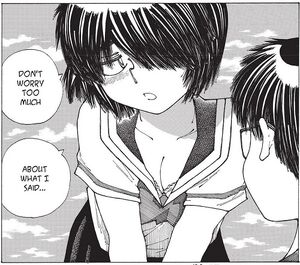 Soon, Oka is distracted from Urabe and what she is saying, and once again turns away and deeply blushes even more so than before, this time with a twinge of guilt. Why ? When Urabe bent down to talk to her so closely, Oka noticed a wonderful ( at least to her ) sight, that is, she could see Urabe's generous cleavage, and the front top of her ultra-feminine lacy bra! Oka smirks to herself, and thanks the powers that be that she is so short. ( And Oka's touchy-feeley prospects towards Urabe did not let up, not one bit ! )
Community content is available under
CC-BY-SA
unless otherwise noted.